Uncategorized
Bizarre Royal Gifts Revealed: A Bomber Jacket From Donald Trump, Lederhosen for Baby Archie and a Gold Horse Comb
Bizarre gifts given to the royals last year include a bomber jacket from Donald Trump and German lederhosen for Meghan Markle and Prince Harry's son baby Archie.The weird and wonderful presents handed to members of the royal family during state visits and tours are released each year in an official list.And this year's has some…
Bizarre gifts given to the royals last year include a bomber jacket from Donald Trump and German lederhosen for Meghan Markle and Prince Harry's son baby Archie.
The weird and wonderful presents handed to members of the royal family during state visits and tours are released each year in an official list.
And this year's has some unusual additions, including a 24 carat horse gold plated horse comb given to Queen Elizabeth II by Slovenian President Borut Pahor.
Prince Philip was handed a personalised Air Force One jacket during a state visit by President Trump and First Lady Melania Trump on June 4.
The couple also gave the queen a leather chest featuring the presidential seal in 24 karat gold tooling and a hand-crafted White House wooden jewellery box.
They also presented a Tiffany & Co. red poppy brooch in "homage to the sacrifices of the British Armed Forces and the continued partnership between the United Kingdom and the United States," according to the official list.
The Duke and Duchess of Sussex may also have been unsure what to do with a set of brown leather lederhosen given to Prince Charles and Camilla to pass on to baby Archie during a visit to Germany.
That gift came from Markus Soder, the Minister-President of Bavaria, while they were in Munich in May 2019.
More to Prince Harry and Meghan's liking may have been a profoundly symbolic gift from Archbishop Desmond Tutu with significance to both his own life and there's.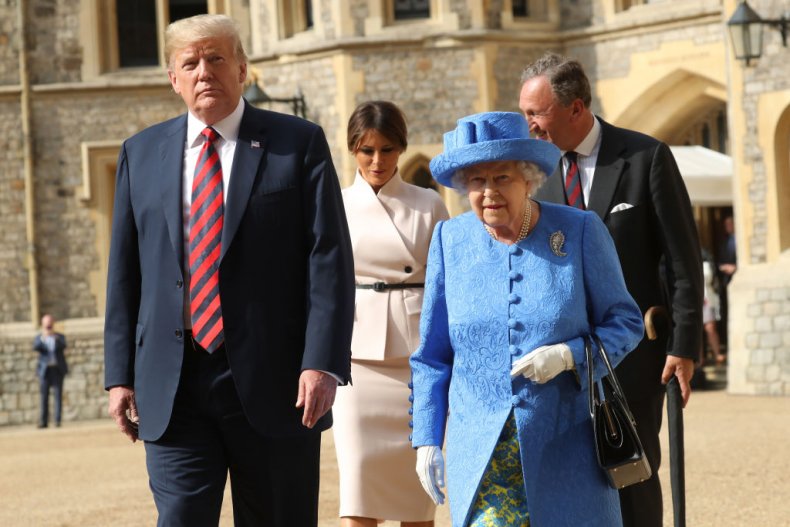 During their autumn tour of South Africa, the anti-apartheid campaigner handed the couple a copy of his children's book Desmond and the Very Mean Word, which is based on events in his own life.
Real Life. Real News. Real Voices
Help us tell more of the stories that matter
Become a founding member
It details the story of a boy who while riding his bike has abuse hurled at him by other children. He initially responds in kind only to realise that mean words do not make him happy and everyone deserves forgiveness.
The duke and duchess were showered with gifts for Archie during visits last year, including toys, dungarees, bracelets, a pilot's logbook and two pilot's shirts.