Uncategorized
Coronavirus Leaves Foreign Workers in the Gulf Stranded, Unemployed and Forgotten, Advocates Warn
Migrant workers in the Gulf states have long lived precarious lives, but the coronavirus pandemic has left many out of work, stranded away from home and quarantined in conditions that allow the virus to spread like wildfire, according to advocacy groups.In countries like Qatar and the United Arab Emirates, low-paid workers—whether working in construction, retail,…
Migrant workers in the Gulf states have long lived precarious lives, but the coronavirus pandemic has left many out of work, stranded away from home and quarantined in conditions that allow the virus to spread like wildfire, according to advocacy groups.
In countries like Qatar and the United Arab Emirates, low-paid workers—whether working in construction, retail, domestic roles or elsewhere—are the most at risk as coronavirus spreads through the region. Though the number of cases has been relatively low compared with other nations, the toll is fast rising.
Working conditions for migrant employees in these countries—particularly in the construction industry—have long been a cause for concern among human rights organizations. Now, these vulnerable workers are working without adequate protection or being quarantined in cramped and unsanitary living conditions, with limited access to food and medical supplies, according to several watchdogs who spoke to Newsweek.
There have been 2,376 confirmed cases, six deaths and 206 recoveries in Qatar to date, according to Johns Hopkins University. In the UAE, there have been 2,659 infections, 12 deaths and 239 recoveries. Both are only at the start of their COVID-19 battles.
Authorities are moving quickly to try and limit the damage. The largest labor camp in Qatar—the so-called "Industrial Area" on the outskirts of the capital Doha—for example, has already become what some reports describe as a prison, with residents quarantined inside. Those who can still work are, but many have been put on unpaid leave with only accommodation and food paid for.
Coronavirus is being slowed elsewhere by strict social distancing, combined with expanding intensive care unit space and ventilators. But this is not feasible for migrant workers in the Gulf.
Cramped and unsanitary living conditions mean that social distancing is "really difficult to achieve," Elizabeth Frantz of the Open Society Foundations' International Migration Initiative told Newsweek.
Worse, many migrant workers are employed in construction and cleaning jobs, meaning they already suffer respiratory health problems due to dust, pollution and heat stress, "making them especially at risk," Frantz said.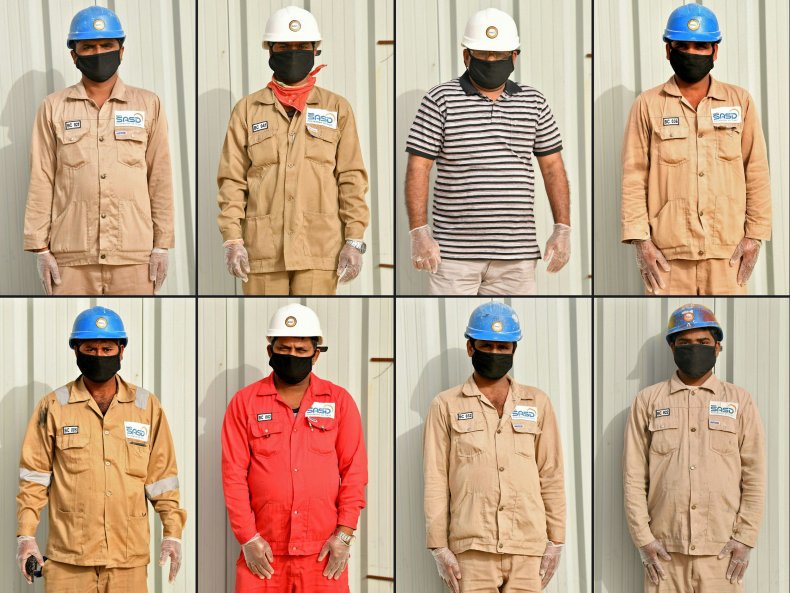 A Nepali worker in Doha—who did not want to be named for fear of possible repercussions—told Newsweek that some of his compatriots are still working on Qatari building sites, where social distancing and proper hygiene are near-impossible to enforce.
The worker said he has been in touch with compatriots inside the closed-off part of the Industrial Area, where some residents are unable to get food and medicine. In one case 95 people were quarantined and had to rely on the Red Crescent to supply them. Others are depending on the Qatar Charity organization for support. "The situation is definitely not as good as it's supposed to be," the worker said.
Reliant on their ability to work, migrant workers may be dissuaded from coming forward with symptoms and seeking treatment for fear of being quarantined. Some companies are providing their workers with food and healthcare during lockdown, but that is not the case for everyone, the worker in Doha told Newsweek.
Many workers will be in debt from paying to be placed in jobs in the Gulf, while their families at home may be heavily dependent on their incomes. Mustafa Qadri, the founder and executive director of Equidem Research and Consulting, explained: "They're not in a situation where they can just sit around and not get paid for a long time."
The Qatari government introduced a wage protection system in 2015, but the mechanism has fallen short, according to Human Rights Watch. "The authorities seem more interested in promoting these minor reforms in the media than in making them work," said Michael Page, deputy Middle East director at Human Rights Watch.
Qadri said that the UAE has been "enforcing infection mitigation procedures diligently, actively inspecting while also letting the private sector itself implement those strategies."
Nonetheless, many construction and oil/gas employees continue to work, Qadri noted. "Many sites are not practicing even basic health safety and mitigation practices like providing face masks, gloves and hand sanitizer."
Qadri noted that the fear of complete economic collapse is keeping some projects going, while others linked to royal family members may continue to avoid them incurring huge financial losses.