Uncategorized
How to Watch Meghan Markle and Prince Harry Documentary: See Baby Archie's First Royal Engagement in Africa
Viewers will get an intimate glimpse of Prince Harry and Meghan Markle's royal visit to Africa in the upcoming ITV documentary, An African Journey, set to air on Sunday.The documentary will offer an inside look at the royal couple's 10-day tour of the country, which wrapped in early October, as they chat with ITV News…
Viewers will get an intimate glimpse of Prince Harry and Meghan Markle's royal visit to Africa in the upcoming ITV documentary, An African Journey, set to air on Sunday.
The documentary will offer an inside look at the royal couple's 10-day tour of the country, which wrapped in early October, as they chat with ITV News at Ten anchor Tom Bradby about the South African issues dearest to them and the initiatives they're taking to help the country.
It will also include never-before-seen footage of the Duke and Duchess of Sussex's son during his first royal engagement. Five-month-old Archie Harrison Mountbatten-Windsor made headlines earlier this month when he accompanied his parents to a meeting with Archbishop Desmond Tutu in Cape Town, South Africa. Images of the family's meeting with the archbishop and his daughter Thandeka Tutu-Gxashe were initially shared on the Sussex Royal Instagram. The documentary will depict the sweet moments leading up to the meeting including the endearing exchanges among the family, such as Markle planting a kiss on her son's head while Harry carries him.
Along with detailing their love and work for the continent of Africa, the young couple is also featured in interviews with Bradby, speaking on some of the challenges they face upholding their duties as modern royals while maintaining a private life in the midst of much pressure and scrutiny from the media.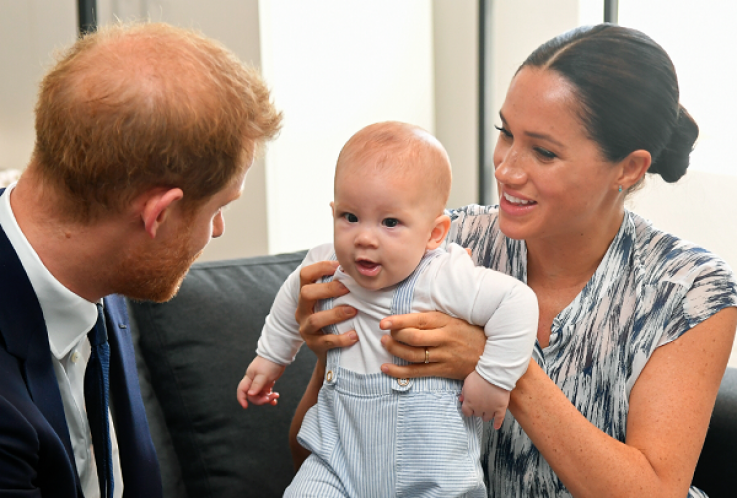 Markle opened up on the obstacles she's faced due to the media's incessant coverage and how difficult of an experience royal life has been in return. In a documentary clip released by ITV on Friday, the 38-year-old mother became visibly emotional while addressing the public criticism she's endured for the first time.
"Any woman, especially when they're pregnant, you're really vulnerable, so that was made really challenging," Markle said. "When you have a newborn, you know. Especially as a woman, it's a lot. You add this on top of being a new mom and trying to be a newlywed."
When asked by Bradby if it "would be fair to say [you're] not really okay, it's really been a struggle," the duchess nodded and confirmed. However, she thanked Bardby for asking how she was doing.
"Not many people have asked if I'm okay. But it's a very real thing to be going through behind the scenes," she said.
In a second clip, Harry shared his concern over the media's tirade against his wife, noting that the "pressure that comes with" the constant coverage of Markle results in him being "reminded of the bad stuff," particularly his mother Princess Diana's death in 1997.
Harry was 12 years old when his mother was killed in a car crash. Although a formal investigation later ruled that the paparazzi weren't to blame for the crash, photojournalists were heavily suspected of being present at the time.